Iowana Farm is Certified Organic by OCIA (Organic Crop Improvement Association). Besides vegetables, we grow organic hay, wheat, filed corn and alfalfa.

We grow all of our vegetable products on our grandfather's farm. We are not a distributor of other farmers' produce. We grow our own.

Our produce is distributed through
- CSA (Community Supported Agriculture)
- Omaha farmerís markets May through September
at Village Pointe on Saturdays
and Aksarben on Sundays
- direct sales to restaurants
- indirect sales through Lincoln Sysco Distributors

For a second year, we are adding a Honey Creek Creamery goat cheese option to our CSA. Honey Creek Creamery is owned and operated by our cousin, Sharon Oamek. The creamery is located on our great-grandfather's farm. You will receive freshly made cheese, which freezes very very well for year around use.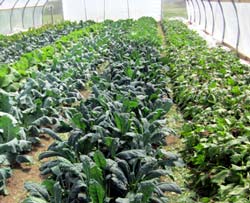 Our weekly 2012 Garden Bulletins provided to our CSA members are available.
March 2012
April 2012
May 2012
June 2012
July 2012
August 2012
September 2012
Fall 2012