Iowana Farm is Certified Organic by OCIA (Organic Crop Improvement Association). Besides vegetables, we grow organic hay, wheat, field corn and alfalfa.

We grow all of our vegetable products on our grandfather's farm. We are not a distributor of other farmers' produce. We grow our own in Crescent, Iowa.

Our produce is distributed through
- Our Iowana Farm CSA (Community Supported Agriculture)
- Omaha farmers' markets May through September
Village Pointe Farmers' Market on Saturdays (8:30 am - 12:30 pm)
Rockbrook Village Thursday at 4 - 7 pm
- Direct sales to restaurants
Kitchen Table on Farnam near 14th
AuCourant in Benson
Stirnella Bar and Kitchen in Blackstone District
Jackson Street Tavern in the Old Market
- Indirect sales through Lone Tree Foods

Iowana Farm also has local Crescent partners for the CSA add on products that provide artisan goat cheese and pastured eggs.

Honey Creek Creamery offers artisan goat cheese chèvre as an add on for the CSA.



We have divided our 34 week CSA season into three separate CSAs – spring (10 weeks), summer (14 weeks) and fall (10 weeks). You can join them individually or signup for the 3 Season CSA (34 weeks) that has a full season discount.
EARLY BIRD SPECIAL

Sign Up Deadline is March 1, 2018

CSA Shares are limited due to growing direct sales

To avoid disappointment, please Signup Now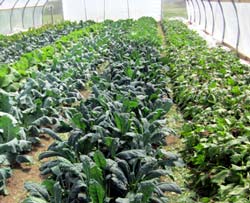 Our weekly 2012 Garden Bulletins provided to our CSA members are available.
March 2012
April 2012
May 2012
June 2012
July 2012
August 2012
September 2012
Fall 2012